February 21st 2013
Gaming News: 20th Anniversary Starfox
Posted by
Kabrelle
on 02-21-2013 20:32:05 EST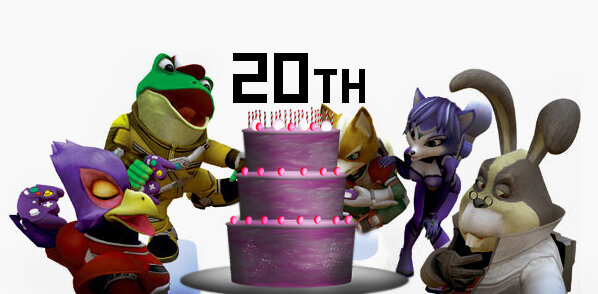 Today Starfox was released in Japan on the Super Famicon system 20 years ago. That means that naturally, today is the 20th anniversary of Starfox! So, did Nintendo have anything special planned for the series? No. But we, the fans, have a special place in our hearts for you Starfox. We will keep hoping, and carry on. Long live Starfox!
---
January 16th 2013
General: It's been awhile, ey Fox?
Posted by
Kabrelle
on 01-16-2013 21:50:40 EST
Wow, look at the time! There hasn't really been squat going on in the Starfox universe lately, has there? Rather unfortunate. This is just an update to let anyone concerned know that SFE will be going under a site redesign for it's upcoming 2nd year anniversary this July and that we will be upgrading server hosts to allow more traffic, as we have been off and online nonstop here lately (no thanks to spammers).
Key to note is that the forums are closed. It was the forums that have been under heavy load due to spam that has been causing us to shut down, so until we adress the issue and fix it they will remain closed. Until Nintendo begins to actually invest in the Starfox series again and give us something to hype over we won't be investing too much into the site other than keeping you up-to-date with the latest news pertaining to the state of the series.
To keep up with us you can find us on Twitter and/or Facebook!
---
September 19th 2012
Console News: Nintendo Wii U Launch
Posted by
Kabrelle
on 09-19-2012 11:49:26 EDT
So we're a little late on telling you what's up with Nintendo's Wii U. If you haven't heard yet (which is unlikely but just in case) The Wii U is set to release on November 18, 2012 (NA)! Just two months away! However, please take into consideration that pre-orders for the system are sold out across all major retailers. There will be two bundles, the Basic set and the Delux set.
Basic ($299.99): White Wii U console 8GB, Wii U Gamepad, Sensor bar and stylus, HDMI and AC adapaters

Delux ($349.99): Black Wii U console 32 GB, Wii U Gamepad and stand, Gamepad charging cradle, Sensor bar and stylus, Console Stand, HDMI and AC Adapters, NintendoLand
---
September 5th 2012
Gaming News: From Star Fox to Lylat Wars
Posted by
Kabrelle
on 09-05-2012 14:09:34 EDT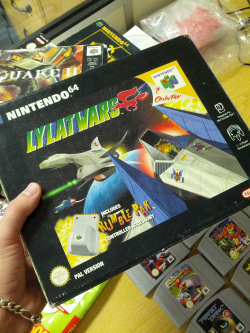 Nintendo Life has contacted Dylan Cuthbert regarding the supposed true reasoning behind the renaming of Starfox and Starfox 64 to Star Wing and Lylat Wars respectively in Europe and Australia.
There has always been speculation behind it, and whether or not this is true could either qualm and add to it all.
Regarding the name change, Dylan Cuthbert had this to say:
"I can't be sure but I seem to remember vaguely someone at Nintendo telling me that there was a company or something called StarVox in Germany, and because 'F' is pronounced like a 'V' there they had to change the name to avoid confusion.
I think by the time the Star Fox Command and Star Fox 3D came out the company was defunct or perhaps the lawyers simply decided that there was no product confusion any more.
The only story I know is the 'StarVox' one, because it was an interesting problem - which is why I remember it."
---
September 2nd 2012
For Sale: Fox McCloud Statue
Posted by
Kabrelle
on 09-02-2012 16:00:50 EDT

It's rare when anything as cool as this that is Starfox related goes up for sale, but here it is, an actual life-size N64-style Fox McCloud statue! So maybe it's a little ugly, but it would still make for a great addition to any hardcore Starfox fans collection. So then why don't I have it? Why has this been on sale for many months now? Well, just take a look at that price tag.

$999.

Pick up your jaw, because you're reading right. A thousand dollar collector's peice. Sure, you can try to offer up a decent price, but don't expect the seller to accept much less than what's being asked. So if you have a spare $1,000 sitting around and are a Starfox fan, jump on this. For the rest of us, we can just admire and wish over this. If you want further details click the image to get to the Ebay page where this is being sold.
---
PODCAST
This feature is unavailable at this time.
SPOTLIGHT
Read up on our interview with Estelle Ellis, VA of Krystal in Starfox Adventures!
John Silke, talented voice actor extraordinare, gets interviewed. Read it here!
Mike West, Fox McCloud of Starfox 64/3D has done an interview with us! See it here!
Jim Walker, VA for Fox McCloud in Starfox Assault and Super Smash Bros. Brawl interview!
DATES/EVENTS
•American Art Museum's Art of Video Games:
3/16/2012-9/30/2012
•*Starfox-
athon
:
7/21/12-7/23/12
•*Forum re-opening:
7/23/12
•Nintendo Wii U:
SQ 2012 [?]
•SSB 3DS/Wii U:
N/A
*Tentative
[?]Questionable
N/A-Not Available